WELCOME
Feeling at home in the heart of Rome
Since 1947, when Angelino and Augusta opened their kind of Trattoria on a once very different Via dei Fori Imperiali, our restaurant has always stood as a favorite spot for locals and tourists from all over the world to mingle and enjoy their time in a unique and charming setting, nestled in the comfort of our internal dining rooms and in our open air spaces, where one can soak up on the spectacular view of the Roman Forum, the Coliseum and the Altare della Patria, under an American ivy canopy.
The cuisine sticks to simple and top quality seasonal ingredients, expressing through time what we feel is our idea of warmth and conviviality. All of these made and still is making Angelino ai Fori una of the best Roman tavern, where you can taste the true Roman traditional cuisine. Seventy years have passed since our opening and our passion has steadily grown along with our family, our team, our suppliers, our friends and now, we're proudly in our third generation of restaurant hosts. All these ingredients combine to shape today's Angelino.
For more than 70 years, everyone is welcome to find his place inside, come and eat in the Ancient Center of Rome. Take a seat at our tables and enjoy the meal.
MENÙ
Our specialties
The menu you're looking at today is the same people looked at 70 years ago. No, we're not lazy, actually, we strenuously defend traditions. Those that make Roman and Italian cooking a cornerstone of our history and way of life.
What we do innovate is the way our dishes taste. But how can you innovate a Carbonara, Matriciana or one of Rome's meat dishes? Well, we started refining our recipes right from the start, when Grandma Augusta and later followed by the caring hands of Mister Franco, crafted them by following a thin red line between excellent produce and an impeccable execution. This is the very essence of what a restaurant is about, the roots of our culinary heritage. Seventy years of recipes, friends and clients whom we treasure as our "experts".
Come and taste all the typical dishes of the Roman cuisine, whether they are starters, main courses or second courses based on meat or fish. Come and enjoy our Gricia, Matriciana, Cacio e Pepe pasta or – as someone is saying – the best Carbonara in Rome.
CAFE'
Finding a trusted barman in the center of Rome
The bar is an Italian icon and a cup of coffee is Italy's trademark ritual. Since 50 years Angelino offers, in the center of Rome, its very special take on what a Bar and a Cafè are supposed to be. Simply put the best brews, quality Italian pastries and a nice selection of light snacks, always accompanied by the charming smile of our baristas. In a cozy and familiar setting, a foot away from the Roman Forum, the Coliseum and Piazza Venezia, we're quick to provide you with homemade sweet and savory delicacies, to dine in or to take away.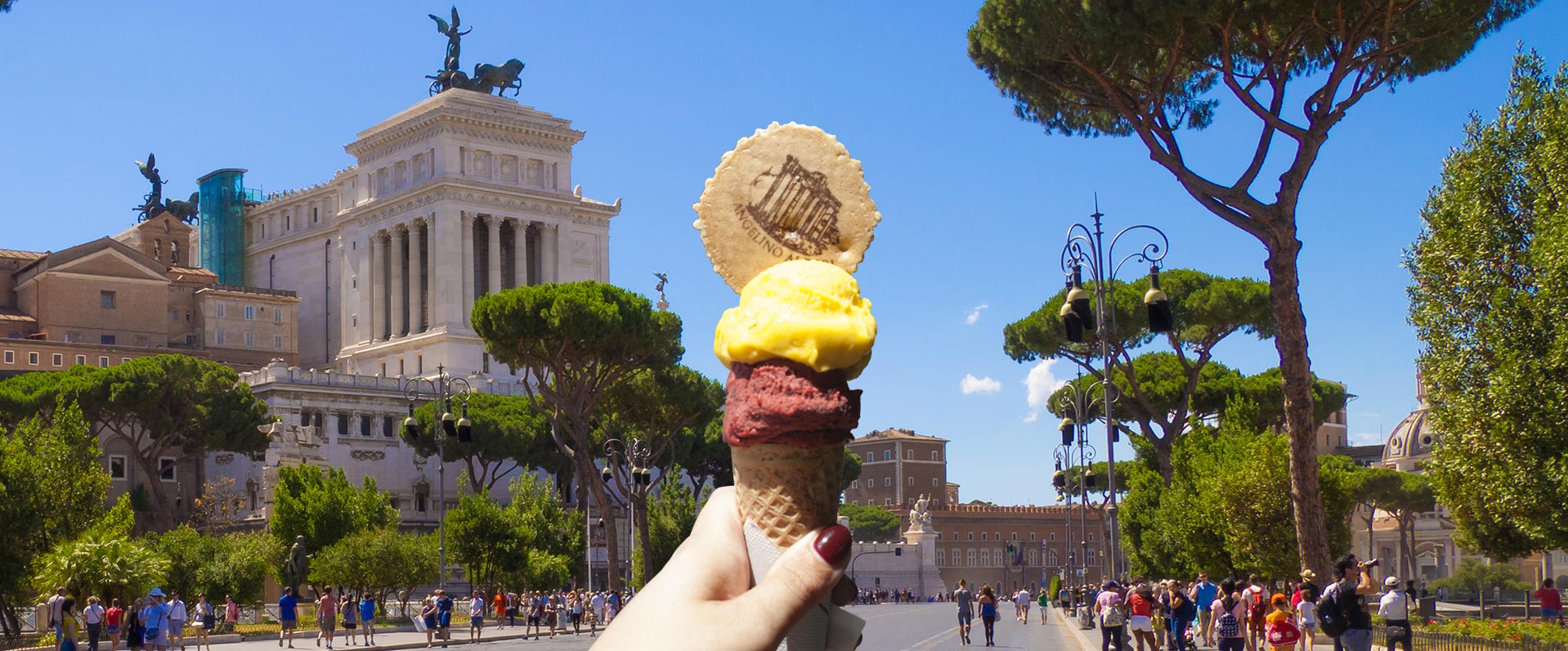 ICE CREAM SHOP
The ice-cream of the Imperial Forum
Carapina is a word you can't translate in English. It's a hollow container for ice cream, so reminiscent of the old days, when the ice cream man would lift the lid and take a hefty scoop of that mysterious iced goodness. Today the times have changed and our Gelato is there for all to see, but the original recipe is still the one Grandpa Angelino thought up decades ago and perfected in time by Mister Franco. Everybody can now enjoy some proper homemade ice cream strolling along the Roman Forum, prepared following the seasons, on a cone with your choice of crispy and fragrant wafers. Happiness isn't something you can buy, but buying yourself our homemade gelato will get you close enough.
ANGELINO'S STORY
Times are changing, but not the attention to the ingredients
Our story predates 1947.  In 1938, Angelino and Augusta are united in holy matrimony, embarking on their quest to become restaurant owners that became a reality almost ten years later, right when Italy was slowly recovering from the deep scars left by WWII. Grandpa Angelino was the restaurant host and Grandma Augusta was the queen of the kitchen. You'll be surprised to know that back in the days, Via dei Fori Imperiali was a pretty much unused stretch of road, crossed only by military parades and celebrations. But for Angelino and Augusta that place had a special aura, like a mystical quiet that laid there for explorers to discover.
Grandparents were then joined by Uncles – Franco and Vincenzo – bringing on board their passion and zeal for a project based on a simple style of cuisine that would be deemed enjoyable by the ones cooking it in the first place. Seasonal, fresh ingredients, together with a friendly and relaxed, yet caring service make up Angelino's second generation that provided its fair share of novelties, with renovated interiors, an Italian-style bar and a Pizzeria.
Then, making pizza was a gamble that paid off and after thirty years we can proudly say so. We thought hard and long on this but it was eventually our foreign guests that motivated us into filling this gap on our menu with Italy's most recognizable foodstuff. We wanted our pizza to feature with a leading role in our menu; hence, Angelino's pizza was the latest and most cherished addition to embody our spirit of conviviality.
Mister Franco was a key figure in consolidating the legacy left by the second generation – refined dining rooms, a totally refurbished kitchen, improved service –paving the way for the third generation to thrive on the trail that was marked decades ago. Friends and clients that over the years have come and enjoyed our cuisine are naturally vested as our own special global ambassadors, sharing our philosophy the world over.
CONTACTS
Largo Corrado Ricci, 40, 42, 43, 43a / Via dei Fori Imperiali, 25 – Roma (RM)
Work with us    |    SubscriBe to newsletter    |   Contact us
This error message is only visible to WordPress admins
There has been a problem with your Instagram Feed.